---


Preseason [ top ]

Offseason Training (September 5 - October 26, 2017)

The 2017 Off-Season training program will be held from September 5 through October 26 at Barton Park in Conroe. This twice-a-week regimen is designed to get players in shape and help them build the skills that are difficult to work on during the season. Specific training will be carried out for all aspects of the game itself, including pitching, hitting, fielding, baserunning and more. Conditioning work will consist of baseball-specific drills, plus strength and conditioning, agility, vision and speed training. This is a great opportunity for your son, whether he intends to play organized ball or not. Full details are available at: Northside Baseball Academy

To avoid Labor Day, the first week sessions will be on Tuesday and Thursday; the rest of the weeks will be on Mondays and Thursdays.


Fall Mini-Camp (November 3-4, 2017)

This year's Fall Baseball Mini-Camp is scheduled for Friday and Saturday, November 3rd and 4th, 2017 at Barton Park in Conroe. We will be focusing again this year on position play, but will also have separate clinics for pitching, hitting and baserunning. Don't miss this unique training opportunity. For full details, including registration information, please call 936-756-2292 or visit the Northside Baseball Academy website.


Tryouts (Thursday, November 9, 2017)

Initial tryouts for the 2017-2018 Northside Falcons High School and Junior High teams will be held Thursday, November 9, 2017 at Barton Park in Conroe. Start time is 1:00 pm. If you are unable to make this date but would still like to try out for one of our teams, please contact us and we will see what we can do to arrange an individual tryout session. Just call Fred Watt at 936-443-1969 (cell).

A rain date is scheduled for the following Monday, November 13, at the same time and place.

Other Information about Tryouts and Team Selection

Tryouts consist of individual evaluations in hitting, running, fielding, pitching and catching, plus additional drills as determined by the coach. Team selection -- which is not based exclusively on tryouts -- will begin immediately after fall tryouts and a preliminary squad will be announced within a week or two. Those who are not selected during the fall tryout session may be invited to attend a supplemental tryout session in January (stay tuned to this website for more information). A light practice schedule will begin shortly after the preliminary team selection and will become more regular as the Spring season approaches.

IMPORTANT NOTE: Players who are selected for the team will need to attend a mandatory parents meeting. Date, time and location will be announced later, but it will likely be sometime in early January. At that meeting, each player needs to bring a copy of his birth certificate (if we do not already have it on file), the season fee, and a snack or drinks. We will also need to get a signed Participation Agreement / Medical Release Form at that time if we have not already received one for the current season. At least one parent must attend. Players who do not meet these requirements may not practice or play with the team until they do.



---
Other Important Dates Coming Up
December Practices: 12/4, 12/11, 12/18 (more information will be provided by email)

Stay tuned to this section for other important dates and information.
---


Spring 2018 High School Schedule [ top ]

The Northside Falcons Spring 2018 High School schedule will be posted here. Stay tuned.



---


Spring 2018 Junior High Schedule [ top ]

The Northside Falcons Spring 2018 Junior High schedule will be posted here. Stay tuned.



---

Top | Home | About Us | Feedback
Policy | Schedules | News | Forms | Maps | Links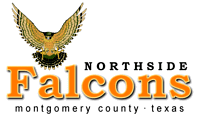 |||||||||||||||||||||||||||||||||||||||||||||||| Visit our Sponsors! ||||||||||||||||||||||||||||||||||||||||||||||||
---
This site created by TC Concepts. Copyrights 2004-2017. All rights reserved.
All graphics, text and photos are the property of TC Concepts.